Feeling Playful Again!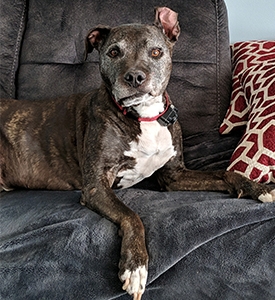 I have two senior dogs, 12 & 13 years old. I had previously been giving them glucosamine to try and help their joints but did not see any improvement with that. Starting giving them this Hip & Joint supplement and after 2 months I have seen improvement in both. The 12 yr old legs no longer snap and crack every time she gets up or walks up the stairs. The 13 yr old dog seems to be a more playful and has even found he feels well enough to jump up and steal food off the counters again! Definitely will continue to give them this supplement and would recommend to anyone.† Review by Hilary B. †Family, friend or staff member of Terry Naturally Animal Health
---
ABOUT | EuroPharma
EuroPharma, Inc., maker of the Terry Naturally® brand, offers clinically proven and effective nutritional supplements that improve the health of America. Terry Lemerond, founder and president of EuroPharma, is well-known for innovation, and is credited as the first to introduce glucosamine sulfate and standardized Ginkgo biloba to the U.S. natural products market. The full line of Terry Naturally products is available throughout the U.S. in both the health food store and professional distribution channels. At EuroPharma, Our Passion is Your Health®.