We love our dogs. Majorly. Like family, right? And we want to share with them our country's greatest celebration of gratitude, Thanksgiving, with special treats and food, just like family, right? But you must be careful! Dogs' metabolism differs from human beings. It is hard to resist the temptation to share what we prepare for ourselves because, oh boy, seeing those tails wag in joy is the very best! But without care we are really doing their health a disservice (hmmmm… sounds a little like my diet…)!
Here are some pitfalls in common Thanksgiving dinner ingredients:
Onions and garlic: make red cells fragile and cause anemia.
Raisins and grapes: toxic to kidneys in surprisingly small amounts.
Chocolate: the stimulant properties cause seizure and death, the fats- see below
Butter, turkey skin, gravy, other sources of fat: very hard on the pancreas, causing vomiting, diarrhea, dehydration and death.
Dairy products: most dogs are generally lactose intolerant
Bones: Poultry bones splinter easily and can puncture the GI tract
Sodium: must use care, as many older dogs have heart murmurs, and excessive amounts can cause issues!
Some dogs can eat small amounts of the above without problems, but most dogs don't have an effective "off" switch, and given the opportunity can eat themselves into trouble (oh boy, again sounding a little like me!). In addition, why take chances when there are simple alternatives?
Below are some tried and true healthy recipes and ideas, some requiring a little more time than others. Disclaimer: Always check with your vet first if you're going to make changes in your dog's diet.
Simple Thanksgiving Mix: Before buttering, salting, adding creams, gravy, sauces or brown sugar glaze, reserve 1/4 cup of cooked sweet potatoes, potatoes, green beans, carrots, sliced turkey breast. Mix together, allow to cool and there you have it! Serve!
Turkey Doggie Hot Dish: (feed about 1/2 cup per meal per 10 lb. pup!)
1 1/2 cups prepared brown rice
1 tbsp. olive oil
3 lbs. ground turkey
3 cups baby spinach, chopped
2 carrots, shredded
1 zucchini, shredded
1/2 cup peas, canned or frozen
Prepare brown rice as directed, omitting fats and salt.
Heat the olive oil in a stockpot on medium high heat, then add in the ground turkey, cooking until it is brown and crumbles.
Add in the vegetables, stirring until wilted and soft.
Stir in the prepared brown rice and mix well.
Allow to cool before serving.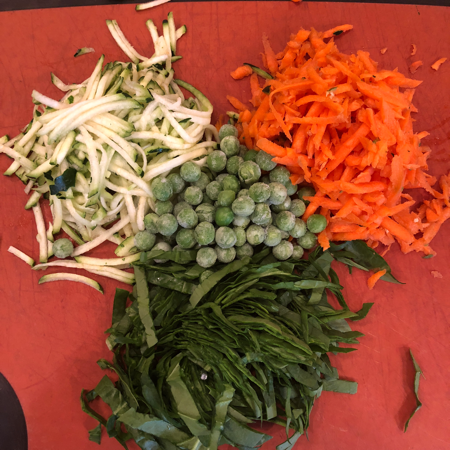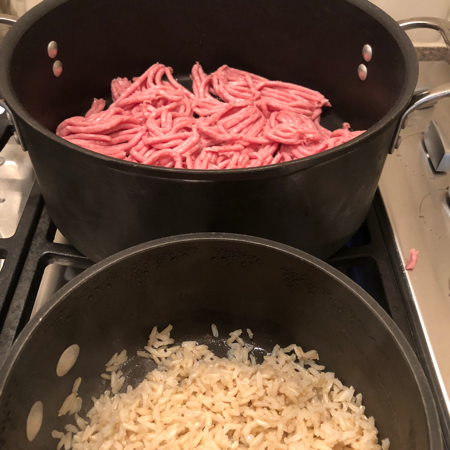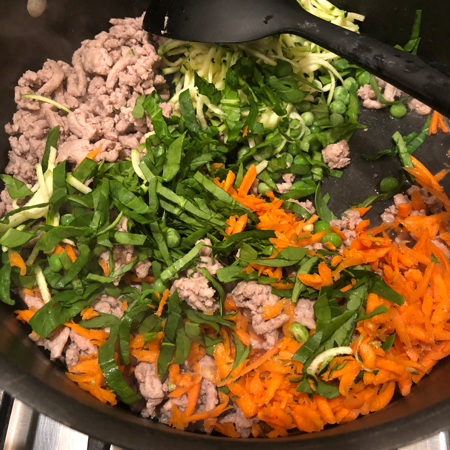 *This recipe can be made in mass as directed, and packaged individually in freezer-safe bags and frozen for later use. I cut the recipe down for smaller appetites and more immediate use!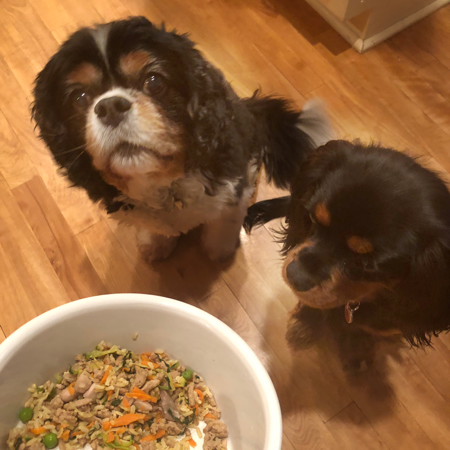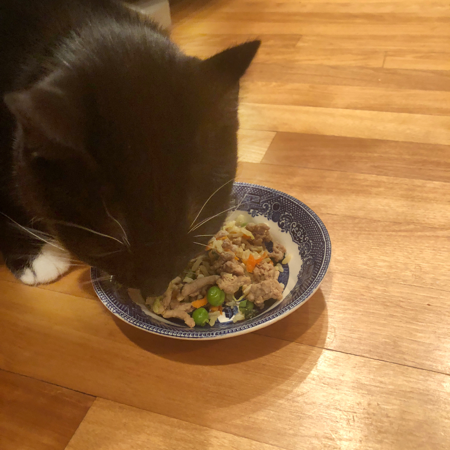 The taste testers were mighty pleased and begging for more, and yes, we wouldn't wouldn't want to leave out our kitties! Safe and healthy for felines as well!
"Pupkin" Pies
Crust:
3/4 cup whole wheat flour
1/2 cup oatmeal
1/4 cup applesauce, unsweetened
3-5 tbsp. water
Filling & Topping
16 oz. can pumpkin (plain, NOT filling)
8 oz plain low-fat yogurt
Preheat oven to 375
Prepare muffin tins by spraying with olive or vegetable oil cooking spray.
Blend oatmeal and flour in food processor.
Add applesauce slowly, followed by enough water to make a ball.
Divide dough into 8 individual balls, then press into a 4" circle on wax paper that has been sprayed with olive or vegetable oil cooking spray.
Press circles into bottoms and sides of the muffin tin.
Bake crusts for 8 minutes
Allow to cool, then fill each crust with 1/4 cup canned pumpkin.
Add a dollop of low-fat yogurt (optional)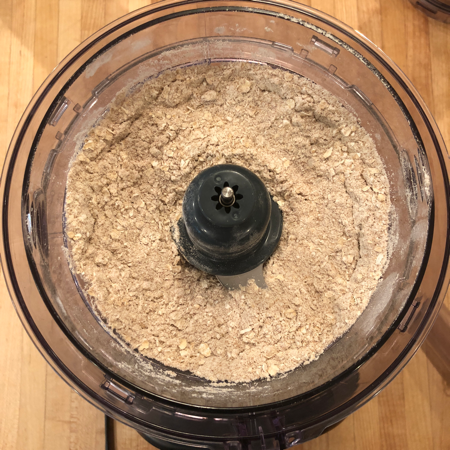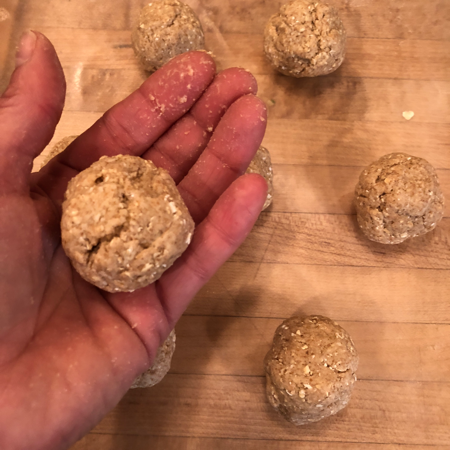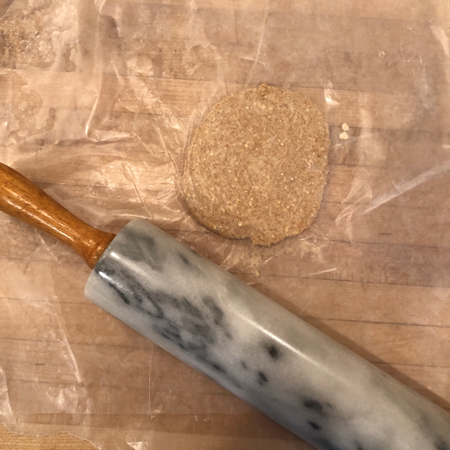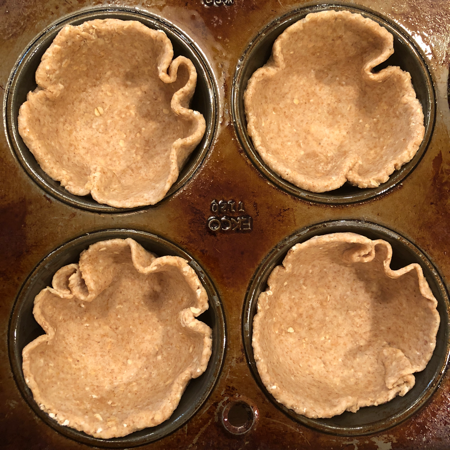 *Crusts can be made ahead and stored in airtight container for up to one week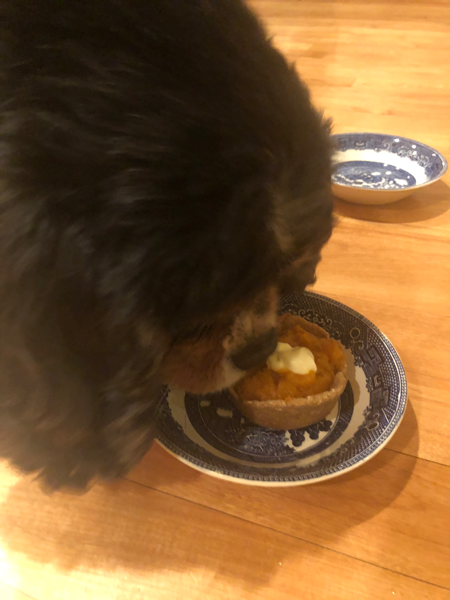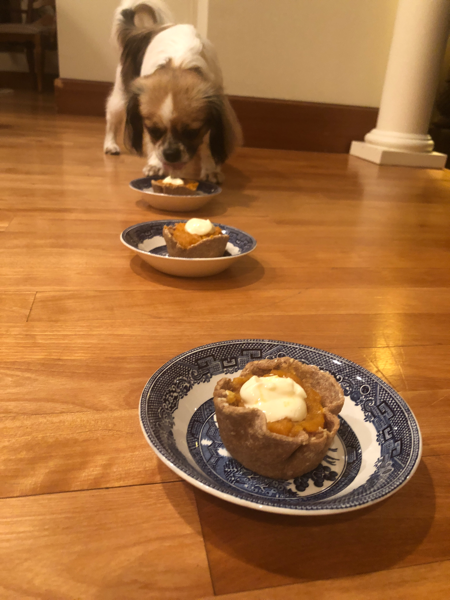 I think we got "two dews up" for this recipe!
I hope this gives you some ideas for a healthy way to share your love with your best friend this Thanksgiving. Aren't we fortunate for those affectionate eyes and unconditional adoration? Let's keep them healthy! Here is a prayer appropriate to the day: "Help me to be the person my dog sees through his/her eyes."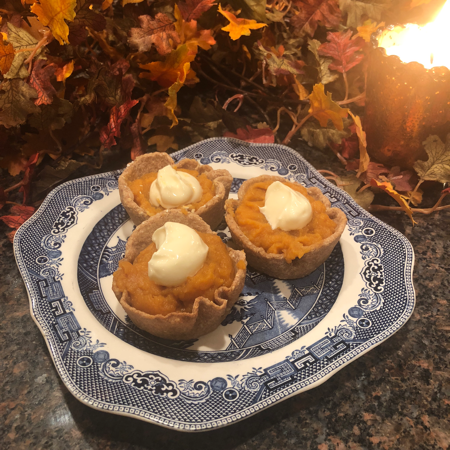 Here's an idea: when the host asks you to bring a dish to pass, offer to bring the dog dishes!! Be careful not to place them on the buffet tho- These look pretty tempting! Recipes found on gonetothedogs.com & petsymptoms.com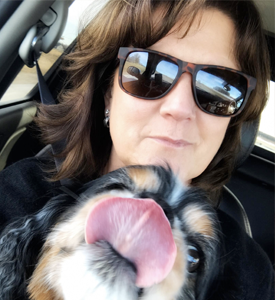 Rändi Fay, DVM practiced veterinary medicine for 13 years in the Twin Cities and in Green Bay, WI until a hand injury forced her into early retirement. She has since become a notable creative presence on the Wisconsin music scene, performing, recording and songwriting, being a four time Wisconsin Area Music Industry "Jazz Artist of the Year" nominee (2015, 2016, 2017 & 2018) and two time UK Songwriting Contest semi-finalist ("Winter Wind" & "Freely Given" 2017). Rändi lives in Green Bay, WI, enjoying time with her family, including two dogs, one cats, two grad-dogs and three grand-cats. Visit: randifay.com